Shannon Bowser : Back From the Bluff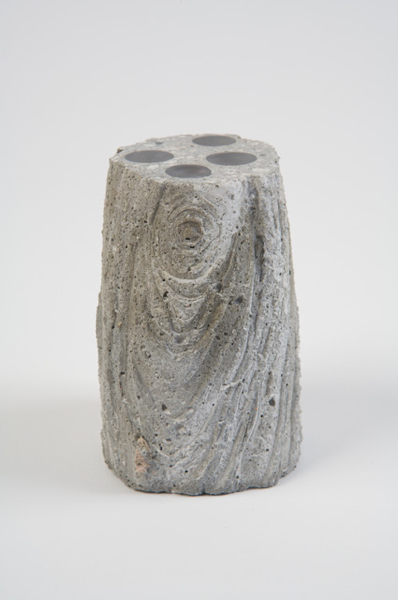 Philadelphia based artist Shannon Bowser brings her nature-inspired and architectural sculptures to Lancaster along with her never before exhibited watercolors.
Bowser writes, "Wilderness, traveling, city-dwelling, and stargazing are some of the influences that inform my work. The pieces are fragments from my natural and my urban landscapes. Taken out of context, they become ruminations that embody both my memory and deep longing for what they represent.
Working in cast concrete, I build molds from low-tech and immediate materials such as cardboard, paper, linoleum, tape, and hot glue. Leaving much to chance, each casting emerges with a life of its own, and the result is often surprising. The concrete becomes a stump cut from a giant Redwood tree, chalky mysterious architectural forms, or red and white mini-chimneys. My goal is to retain a buoyant, playful quality within a solid form while asking the viewer to question physicality, scale and context, and to reflect on their own associations and memories."
Exhibition Dates : December 4th 2009 through January 16th 2010.
Image : Acadia Stump : concrete, glass beads : 4 h x 3 inches dia.
Images